On Tuesday, April 18, 2023, there was a mural unveiling of Johnny Ritchey at the San Diego High School near the entrance of the SDHS baseball field. The San Diego Padres Commissioned Artist Andrea Rushing to paint a mural of the legendary and groundbreaking baseball player Johnny Ritchey who broke the color lines in the Pacific Coast League a few months after Jackie Robinson broke the color barrier in the Major Leagues. Ritchey was the Padre's first Black player and a professional baseball catcher. The mural unveiling was a surprise gift to the Ritchey family, students, and the community. Ritchey is recognized as one of the first African Americans to play Minor League Baseball in the twentieth century.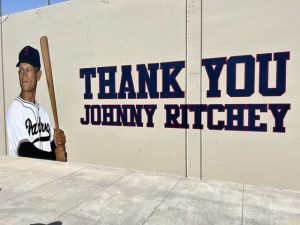 Johnny Ritchey was born on January 5, 1923, and graduated from SDHS where he played baseball. He also was a pre-law student at San Diego State, where he also played baseball. Ritchey was called to military service, leaving SDSU to serve as an engineer in the army during WWII.  He earned various medals for his service. He won batting titles in both the Negro Leagues and Minor Leagues. Johnaa Ritchey Battle, the daughter of Johnny Ritchey stated "We are proud and grateful that "Pop" is getting the recognition and honor he is getting now and should have gotten when he was playing baseball. It is a result of his perseverance and character. My father had a strong character, and drive to persevere. He believed we should always be a good person."
Johnny Ritchey passed away on January 14, 2003, and has been honored on various occasions. Ritchey was recognized for integrating the PCL & there is a bronze bust in Petco Park Commemorating Mr. Ritchey. "We are so proud that we can honor a great alumnus at our school. Our school is rich in history, and our goal is to share our history. San Diego High School is San Diego History," stated SDHSAA Historian Yvette Porter Moore.
Some of the people in attendance were family members; John Talley (son), Johnaa Ritchey Battle (daughter), grandchildren Carlee Battle, Cameron Turner, and son-in-law Carlos Battle. Community members and elected officials in attendance were Superintendent Dr. Lamont A. Jackson, School Board member Richard Barrera, SDHS Principal Franny Del Carmen-Aguilar, SDHS Alumni Association, SDHS Foundation, and the Padres organization.
Visit the links below to see the media coverage of the mural located at SDHS.