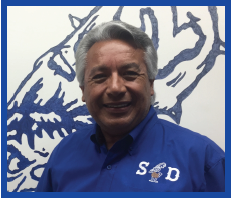 Gaspar Luna Oliveira
San Diego High School Alumni Association
Hi, my name is Gaspar Luna Oliveira, Class of 1968.  I am the Chair of the Membership Committee.  I want to welcome you and thank you for your interest in becoming a member of the San Diego High School Alumni Association.
For those who leave San Diego High School, but for whom San Diego High School never leaves, this is where you belong; the San Diego High School Alumni Association.
Membership in the SDHS Alumni Association is all about pride—pride in being a Caver and in belonging to a distinguished alumni network.
Strengthen your CAVER connection and help support activities and enjoy some of the Alumni Association Member benefits, as listed below:
Student / Campus Support:
Student achievement awards and academic competitions.
Student athletics, clubs, and activities.
Preserve and display SDHS historical treasures in the new History Center.
Preserve the Alumni  Association Office.
Networking Activities & Other Benefits:
Annual All-Class Homecoming Reunion
Electronic Newsletter
Cavers at Padres Game Fundraiser
Access SDHS History Center
Complimentary Campus Tours
Annual Wall of Honor Ceremony
Enhances your resume – prospective employers look for those that involve in the community.
Membership Options
We have several options that are designed to suit your individual needs.
Option 1
1 Year Membership
$15.00
Option 2
2 Year Membership
$25.00
Option 3
Special 5 YEAR
Membership $50
Option 4
Life Membership
$100.00
Sustaining
Membership
$150.00
or more
Enrollment Options
---
1.  Download Adobe Acrobat Application Form.
Download the application using the button below and return with your payment
(make check payable to the SDHS ALUMNI ASSOCIATION) mail to:
San Diego High School Alumni Association
1405 Park Boulevard San Diego, CA 92101-4722
email: sdhsalumni@gmail.com
Phone (619) 231-8982 or
(619) 525-7455 Ext 2354
FAX (619) 231-8982
You may download an Adobe Acrobat application Application.
---
2. Enroll online (and, if you prefer, pay using most credit cards)
---