Charlie Brown Class of 1964
Charlie graduated from SDHS in 1964.  Attended Wichita State.  Coached Valencia Park Pop Warner Youth Football, currently coaching at Morse HS and was a mentor for 6 student athletes at SDHS.
Mr. Brown played sports, coached at different schools while working for a number of years for the SDUSD, and is well known in the SD Coaches circles.
Mr. Brown and his wife had a mentoring program for students at SDHS for a number of years.
He be the SDHS alumni Association liaison to the SDHS Coaches, SDHS staff, and the district.
Mr. Brown is working on another mentorship program and will work with SDHS Coaches to help the student-athletes remain eligible during their sports season. 
Yvette Porter-Moore '86, Historian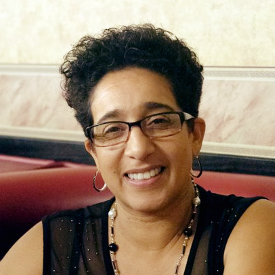 Greetings Alumni!!!
As of January 2018, the Executive Board appointed me as the new historian for the San Diego High School Alumni Association.
It is with great honor that I get to fulfill the responsibilities of this position:
To collect, document, preserve and highlight the history of our great school, the oldest High School in San Diego. San Diego High is San Diego History!
I appreciate the work of the former historians, in particular, Don King, who did a lot to organize and preserve the History Research & Archival Room.  I hope that I can make a lasting impact at San Diego High.
As the historian, I have some very specific goals that I would like to accomplish over the next few years.
Catalog, Index and digitize all items in the archival and history room while making them available through an online archive system.
Preserve, Scan & Digitize Year Books making them available through an online archive for member access.
Conduct regular tours of the history & research room in the library at San Diego High School.
Encourage Alumni to participate in documenting their history of San Diego High School through storytelling.
Highlight the history of San Diego High School and former Alumni through monthly blog posts.
Help the Yearly Class Reunions with their history, making it available for their day of reunion.
As one of the goals of preserving our old documents and our very fragile year books, I see the value of digitizing our historical collection and making it available to the public online.
Making items accessible online, allows us to obtain information from our homes without having to go to the campus.
I will be available on campus at least twice a week. I will take appointments and can be reached at:
Virginia Lopez Mergener Class of 1978
Virginia Lopez Mergener, is a 1978 alumni of San Diego High School. Virginia served as 1976, 77 & 78 class secretary.  She is excited for the honor of being on the Alumni Board and the opportunity to give back to a school that provided such great memories
Virginia is a mother of 4 and grandmother of 2. Virginia started her career in the hospitality Industry. She held the positions of Sales Manager, Catering Manager, and Director of Catering and Conventions Services, at venues such as; Murrieta Hot Springs Resort and Health Spa, Temecula, The Embassy Suites, Temecula, The Lodge at Torrey Pines, Catamaran Hotel, Bahia Hotel Resort and Rancho Bernardo Inn in San Diego.
Virginia's passion for the hospitality industry lead her to her current online businesses in 2002, which are online planning resource guides. The websites are dedicated to providing an efficient, informative and user-friendly media to share with her online visitors. Other services also includes web design, a passion for design Mergener developed over the past years.
As a member and board participate of national organizations such as the Hospitality Sales and Marketing Association International (HSMAI), International Special Events Society (ISES), San Diego Meeting Professionals International (SDMPI), San Diego Convention and Visitors Bureau (SDCVB), National Association of Catering Executives (NACE) and The San Diego Hispanic Chamber of Commerce (SDHCC), Virginia proves to be a true supporter of continuing education in the hospitality industry. Mergener served on the Executive Board of the San Diego Chapter of Meeting Professionals International (SDMPI) and International Special Events Society (ISES).
Mean while Virginia appreciation and contagious passion for recycling, restoring & re-creating evolved into Reusable Finds a resale and repurpose center, which keeps her busy.
She looks forward to serving the SDHS Alumni Association, and assisting in creating a positive experiences in the lives of the SDHS students.
 Thank you,
Virginia Lopez Mergener