SDHS Alumni Association
Wall of Honorees for 2016
Carlos Hadaway
Carlos Hadaway, Class of 1960, is a Western artist nicknamed The Arizona Kid.  At San Diego High Carlos served as Art Commissioner on the Boys' Federation Cabinet and the Senior Class Cabinet. He was a 3-year member of the Art Service Committee. As a member of the Gray Castle yearbook staff, his "Caveman" drawings appeared throughout the annual.
Carlos has contributed generously to the Alumni Association and the class of 1960 by donating his paintings for fund-raising events for student scholarships. His R.I.P. Caveman is a feature of the Alumni Association Newsletter and website.
When Carlos was serving in the U.S. Navy in 1961, he designed the Swinging Friar logo for the new professional baseball team, the San Diego Padres. He was nineteen at that time. He retired from the Navy after four years of service and moved to Arizona to launch his art career and to become a professional cowboy.
He created and donated a work of art for the Parks and Recreation Department of Fountain Valley, Arizona, in tribute to department employees.
He has participated in top art shows in all the western states and has won many awards, including Best of Show at Old Town Tempe's Festival of the Arts and the George Phippen Popular Award at the George Phippen Western Art Show in Prescott, Arizona.
Licensed by Anheuser Busch, Carlos created a series of six western prints featuring the Budweiser Clydesdale horses. One of his paintings hangs in the Arizona State Capitol building, and his artwork hangs in galleries throughout the world.
Two highlights of Carlos's life were being selected as the 1994 Grand Marshal of the world's oldest rodeo, Prescott Frontier Days, and 1992 Grand Marshal at the Pine County Pro Rodeo in Flagstaff, Arizona.
Carlos has been a keynote speaker at Veterans Memorial events throughout Arizona. He is an active member of many veterans' organizations. In May 2016 the Fountain Hills Cultural and Civic Association dedicated a large plaque to Carlos, commemorating his many contributions to the life of that community.
George Paluso
George Paluso '66, son of Sicilian immigrants was a leader at San Diego High School.
He served as ASB vice president, president of Key Club and Boys' Federation, and sports editor for the yearbook.
He lettered in junior varsity and varsity cross country and track. He maintained active participation as an alumnus by being on the Class of 1966 reunion committee for the 10th, 20th, 25th, 30th, and 35th reunions, and he helped organize the annual alumni beach party at Crown Point each summer.
As an attorney in downtown San Diego, he often served as liaison between the committee and the community.
The Kiwanis Club of Hillcrest honored George for academic excellence when he was an 8th grader at Roosevelt Junior High.
From that time on, he was aware of the role of Kiwanis clubs in community service, and was an active member of Kiwanis his entire adult life.
He organized the Kiwanis Federation of Tierrasanta, and spearheaded efforts to establish scholarships for Serra High School seniors through the Kiwanis Foundation of Children First.
George shared a passion for baseball with his son Dominick. He coached and umped for Little League, and organized Serra High School Boosters to support the baseball program.
As a lifelong San Diego baseball fan, George loved the Padres, and his own role as player manager in the Padre Fantasy Baseball league. He played the game two days before collapsing with a brain aneurysm at the age of 58. In addition to his son Dominick, George is survived by Pat, his wife of 37 years, and his daughter Kathleen.
Caroline Ridout Stewart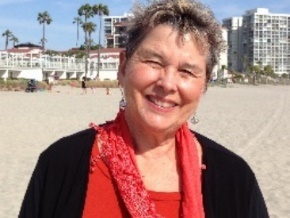 Caroline Ridout Stewart, LCSW, Class of 1966, earned her BA and MA at McGill University in Montreal, and her MSW at San Diego State University.
She trained in fine arts in addition to earning a degree in social anthropology.  At San Diego High School, her favorite subjects were art and science.
She was in the biology club, Demoiselles Community Service Club, and was on the women's gymnastic team, 1964-66. She combined her skills as writer and artist as the editor of the 1966 year book.
Carolyn's parents and siblings graduated from SDHS, too, and Caroline married Donald A. Stewart, SDHS class of 1965.
Caroline continues to pursue science, writing and art in her life: as a clinician and clinical instructor at UCSD; as president of A New PATH (Parents for Addiction Treatment and Healing); and in her company, Owl and Mouse Designs, which creates adult coloring books and note cards featuring Caroline's drawings and travel photography.  Caroline taught college anthropology for ten years before becoming a clinical social worker and psychotherapist.
She is co-leader of Moms United to End the War on Drugs, an international organization under the auspices of A New PATH. In 2016, the two groups, Moms United and A New PATH, met with the federal drug czar Michael Botticelli to promote a more clinically-informed federal approach to addictive illness.
Caroline has worked as a volunteer in Donovan State Prison.  Her articles on substance abuse and addictive disorders appear frequently in professional publications, and she is a frequent participant on professional conference panels on infertility, bereavement, addiction and recovery. She is a prolific essayist and poet.
Caroline's work has been recognized by a San Diego Business Journal Award (2008), Soroptomist International's "Making a Difference for Women Award" (2008), and the Certificate of Appreciation for Advocacy for Persons with Addictive Illness (presented by Senator Barbara Boxer in 2006).
Rafael "Ralph" Villar, Jr.
Rafael "Ralph" Villar, Jr., Class of 1948, was nominated for the Wall of Honor by his daughters, Virginia Bennett and Vivien Lindley. At San Diego High Rafael was Junior Class President.  He was a JV wrestler, a member of Hilltop Choir, a cast member in the senior play, a cheerleader, and a member of the debate team. He is a lifetime member of the Alumni Association.
Ralph retired from the U.S. Army in 1977 with the rank of Command Sergeant Major. He is a Korean War veteran, a member of the 187th Airborne Regimental Combat Team; and a Vietnam War veteran in the 63rd Signal Battalion. He represented the U.S. Army Japan when president Gerald Ford visited Japan.
Ralph worked at Alisal High School in Salinas following his retirement from the military and retired in 1988. He has served as president of Council 5008 of the California School Employee Retiree Association; president of the Salinas Host Lions Club and active member of the club. He is a volunteer Salinas Reserve City Police Officer, and has been active in the Monterey County Victim and Offenders Program, the Friends Outside Ex-Offenders Program, Turning Point of Central California, and the Restorative Justice Program. Rafael served as Salinas City Commissioner and was Transportation and Safety Officer for two years.
When Ralph was in Japan, he was active in Boy Scouts, holding positions of Scout Master and Scout Commissioner. He was awarded the Order of the Arrow, Scouting's highest honor.
Ralph is active in many veterans' organizations: Veterans of Foreign Wars, the Retired Enlisted Association, Disabled Veterans of America, and the American Legion. He has held leadership positions in all these organizations. He was named Monterey County Veteran of the Year, the California State Assembly Veteran of the Year, and Monterey County United Way Volunteer of the Year.
When Ralph was 70 years old, he ran his first marathon race and proceeded to complete four marathons and 29 other races in the following five years, including the Big Sur Marathon. He also participated in two 26-mile relay runs to raise funds for non-profit agencies.
Ralph is active in Toastmasters International. He is a volunteer motivational and career advisor speaker and has given talks at Soledad State Prison, Salinas Valley State Prison, Monterey County jail, Monterey County Juvenile Hall, many drug and alcohol programs, junior high schools, high schools and colleges. His daughters said, "Exercise is his passion. Speaking is his pleasure. He enjoys life to the fullest at the age of 87, and his priority is helping veterans and their families."
Dr. Anthony Williams
Dr. Anthony Williams, class of 1966, excelled at sports when he went to San Diego High School. "Tank" played defensive guard on the football team where he was a two-year letterman. He lettered in junior varsity baseball and football, played basketball and ran track. He belonged to the Letterman's Club, the Senior Club, and played saxophone in the band and pep band.
Anthony attended San Diego City College, and received a football scholarship to San Francisco State University. He completed his B.A. and received his lifetime teaching credential from San Diego State University. He taught for more than 29 years in the Grossmont School District and was the first African American head football coach at San Diego City College.
A saxophone player from the age of nine, Anthony began working in the music department of the Apostolic Faith Temple Church. He became associate minister and ordained deacon, and was the Southeast District Youth President before he received his Doctor of Divinity in 1998.
In 1993, Anthony founded the Truth Apostolic Community Church (TACC). Today that church operates vital community outreach programs: The Share Program (food supplement program); Bright DAZE (addiction recovery program); and the Tutorial Program. Four new churches have started under the TACC umbrella.
As a teen-ager, Anthony played in the band "Arleen and the Pro Teens" with his brother and sister. At the professional level, he accompanied James Brown, Jackie Wilson and many other top flight performers. He met the love of his life, Betty Williams, when he was in the band "Peaceful People." Betty and Anthony married in 1972 and raised six sons.
Anthony Williams was a community leader who saw what needs existed and then created programs to meet those needs. His leadership extended to mentoring others to work alongside him and to continue the work he loved. Anthony died in 2004.