Eddie Head II '73, President
First, let me say what a wonderful opportunity it is to work with the great SDHS Alumni that serve on the SDHS Alumni Association Board of Directors.
I came to San Diego High via J.F. Kennedy Elementary and Roosevelt Junior High School. The friendships I made at Kennedy, Roosevelt and San Diego High continue to this day.After leaving San Diego High in 1973, I attended San Diego City College and Coleman College and graduated with Certificates in Computer Programming. I started my working career in retail with FedMart in 1974.
When FedMart closed its doors in 1982, I had worked my way up from box boy to Customer Service Manager.In 1982 a friend of mine suggested that law enforcement would be a good career for me. I took the law enforcement test and was hired in 1983. I started my career in law enforcement as a cadet learning what law enforcement was all about.
Throughout my career, I held numerous positions that included working undercover with local, state & federal agencies. I was nominated for the National Law Enforcement Officer of the Year Award and was one of two officers from the State of California selected as finalists. Upon my retirement,
I received many awards from local, state and federal agencies for my outstanding service for over 25 years.During my career in law enforcement, I worked with law enforcement associations and held various positions including Finance Chairman, Benefits Chairman, and Legal Defense Representative; I was a member of the Legal Defense Committee, Vice President and President. I served on the Peer Support Team where I helped law enforcement officers and their families deal with critical and non-critical incidents and their effects on them professionally and personally.I look forward to serving the SDHS Alumni Association, keeping the history of SDHS in the forefront and helping current students achieve their goals.
Gaspar Luna Oliveira '68, 1st Vice President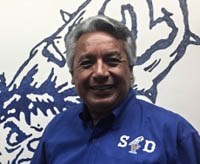 Gaspar was raised in the Logan Heights (Barrio Logan) community.   He attended San Diego City Schools: Lowell Elementary (now Perkins), Memorial Junior High School and San Diego High School.   He is a proud Caver, Class of 1968.   At San Diego High School, he was active in Student Organizations including President of the Key Club and elected by the Student Body as one of the four (4) male Cheerleaders.   After graduating with Academic Distinction, he was awarded several scholarships, and attended San Diego State University where he majored in Public Administration.
On August 1, 2012, Gaspar retired from the State of California, Department of Fair Employment & Housing (DFEH) after a 39-year career in Public Service.   He started his career path in April 1973 with the University of California, San Diego, Third College (now Thurgood Marshall), and later moved to the University of California, Davis.   He also worked for the Department of Industrial Relations in San Francisco, and the California State Personnel Board in Sacramento.   In June 1980, he joined the newly created DFEH.   He held many positions, including entry level Investigator, Specialist Investigator, Senior Supervising Investigator, and District Administrator for the Fresno and San Diego DFEH District Offices.
In retirement, Gaspar is a volunteer Usher for The Old Globe Theatre at Balboa Park, The La Jolla Playhouse, The Lambs Theatre in Coronado, and The Museum of Art, Balboa Park.   In September 2012, Gaspar was designated as a "Super Volunteer" for his many hours of service to the San Diego & Imperial Counties Labor Council.   As a member of the California State Retirees (CSR), he was Chair of the Political Action Committee for CSR Chapter 17 (San Diego & Imperial Counties), was an active member of the CSR Statewide Membership Committee, and in March 2014 named as a CSR Ambassador.   In July 2015, he was appointed by the CSR Executive Board to serve on the Statewide Political Action Committee.
In the Fall 2014, Gaspar was elected to serve on the Board of Directors of the SDHS Alumni Association.   In January 2015, he was appointed by Board of Directors President Eddie Head II, as Chair of the Membership Committee.   He is committed to the success of the Alumni Association and wants to support in any way possible the "Cavers of the 21st Century."
Yvette Porter-Moore '86, Historian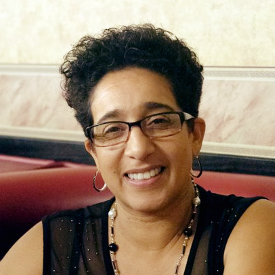 Greetings Alumni!!!
As of January 2018, the Executive Board appointed me as the new historian for the San Diego High School Alumni Association. It is with great honor that I get to fulfill the responsibilities of this position; To collect, document, preserve and highlight the history of our great school, the oldest High School in San Diego. San Diego High is San Diego History!
I appreciate the work of the former historians, in particular, Don King, who did a lot to organize and preserve the History Research & Archival Room.  I hope that I can make a lasting impact at San Diego High.
Secretary,
Ed.D Jo Frocks Birdsell '73
While at San Diego High School. Jo participated in Concert Band, Marching Band, Badminton Team and was Editor-in-Chief "The Russ"
Her public service incudes:
Director of Bilingual Education, Chula Vista Elementary School District
Consultant, California State Leadership Academy
Principal, National School District
Dean of Education, Point Loma Nazarene University
Consultant, California Commission on Teaching Credentialing
Chair, Department of Educational Administration, National University
Co-Chair, Department of Teacher Education, National University
Interim Assistant Provost, National University
Statewide Coordinator of Clinical Practice, National University
Chair, Independent California Colleges and Universities Council on the Education of Teachers
Other notable qualifications:
B.A., San Diego State University
California Bilingual/Bicultural Teaching Credential
M.A., Educational Administration, National University
Ed Specialist degree , Point Loma Nazarene University
California Administrative Credential
Ed.D., Northern Arizona University
Treasurer
Currently Open