We are pleased to announce the Alumni Association
2019 Wall of Honor Recipients
John Doogan class of 1962.
John ran track and cross country, and was a member of the 4 x 40 Relay Team, which set the City of San Diego all-time best record.
His outstanding achievements include:
John joined the Coast Guard in 1966 and served during the Vietnam War. He was assigned to the USCG High Endurance Cutter and became the head-quartermaster in charge of the helm and navigation.
In 1969, he was Coxswain of a 36 foot search and rescue boat and was highly decorated for saving lives.
Since 1972 he has served as a member of Flotilla 6-1, and in 1997 as Flotilla Commander of the number 1-rated Flotilla in the US Coast Guard Auxiliary.
John was a successful executive with Litton Industries and President of Advanced Technology Corporation.
John is founder and Executive Manager of the 501 (c) 3 non-profit, Orphanages of Thailand (OOT). OOT supports the School for the Disabled, facilities in Wat Bot, canes for the blind, hearing aids, and clothing and food for children.
He is a 30-year member of the District 4-L4 Lions Clubs International, and was recognized as District Lion of the Year in 2005.
John serves on the SDHS Alumni Board of Directors responsible for liaison between SDHS and the local business community.
Eddie Head Class of 1973
Eddie was President of the San Diego High School Key Club in his Junior and Senior years.
He received a scholarship from the Downtown Kiwanis Club for his involvement in the SDHS Key Club.
During his time at SDHS, he played Junior Varsity and Varsity Football, ran Track & Field and played Junior Varsity Basketball.
Eddie is the current President of the Alumni Association Board of Directors serving since 2012.
In 2014 he was elected President of the SDHS Alumni Association. Once he became President, Eddie had a vision of modernizing the operations of the Alumni Association Office.
With the support of the Board of Directors and office staff, he upgraded the computers and software to update the membership database to help the office staff and serve the needs of the Alumni Association membership.
He also worked with the Audio/Visual class in putting together announcements on behalf of the San Diego High School Alumni Association and Foundation.
He worked with SDHS Alumni Board Members and School Administration organizing fundraising activities for various clubs and athletic programs. Eddie worked with the school I.T. Department to develop the first SDHS Alumni Association Website.
Frank Stephens Class of 1974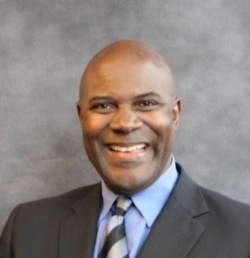 Frank captained the SDHS 1974 Football and Baseball teams.  He raised funds for a group that was "Helping the Youth of Southeast San Diego selling candy.
Help conflicts on campus when it came to inter-racial conflicts.
He represented SDHS with the mission to keep SDHS at its present location and gave a speech to San Diego City Council.  A battle that we won!
He graduated from UCLA, with a Bachelor of Arts Degree, Sociology, 1984
Then from National University, Masters of Science in Educational Administration, 2002
Achievements:
Served as Mater Dei High School Freshman football coach 1997-1999, 2013,2014
Director Student Services UCLA 1993-2006
Assistant Athletic Director UCLA 1990-1993
Sports Seminar speaker 1994
Professional Development Program, January 1997, UCLA Staff and Organizational Development.
Co-Authored Chapter 4 of 'You can't play the game if you don't know the rules" Career
Opportunities in Sports Management by David M. Carter.
New Mexico State Running back coach 1985-1986
Fred Thompson class of 1951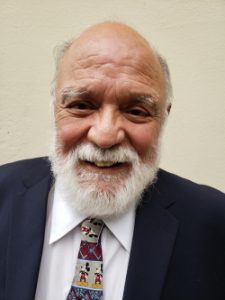 While at SDHS, Fred played football for three years. As a senior, he was awarded "AII City Center" - the best center in the entire city and league. He also wrestled and was on the swimming team.  Altogether, Fred left with five varsity letters.
He sang lead tenor in the Boys' Quartette for three years-and sang in the choir and boys' glee too. He appeared in three all school shows.  Fred was a sports reporter for the Russ newspaper.
When you saw Fred, you also saw his ukulele, which was to be his for life and occupation. He is still recognized as one of the best ukulele players in the world.
Fred became a life member in the Alumni Association over 50 years ago. He was President of the AA, during the 90s.
He has supported the alumni in any way he could, such as getting shelving done for the AA library as a donation.
Fred was the chair of the San Diego Police
Athletic League for six years. Under his leadership, it grew to having over 20,000 at-risk young people involved. They did BIG events like having 500 basketball teams competing in tournaments at Qualcomm.
He was Chair of the Aztec Athletic Foundation (AAF) in 1987-88. During his time as the leader at SDSU, the school's football team beat BYU, won the WAC, and played in the Holiday Bowl.