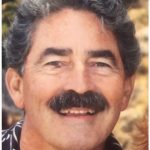 Raymond Joaquin Mercado
February 28, 1942 - July 31, 2020
Escondido
Raymond Joaquin Mercado February 28, 1942 July 31, 2020 Raymond Joaquin Mercado, 78, passed away on July 31, 2020 after a valiant, 28-year battle with Parkinson's disease.
Raymond was born February 28, 1942 to Manuel and Ida Mercado in his beloved San Diego. He grew up in Golden Hill, surrounded by his loving aunts and cousins, who instilled in him a fierce love and loyalty to family.
He attended St. Jude's Academy and Our Lady of Angels, and graduated from San Diego High School in 1959.
He earned a Bachelor's Degree in history from San Diego State University in 1966, and a Juris Doctor from the University of San Diego School Of Law in 1975. Between earning his degrees, he served in the Old Guard, the Army's official ceremonial unit and escort to the president.