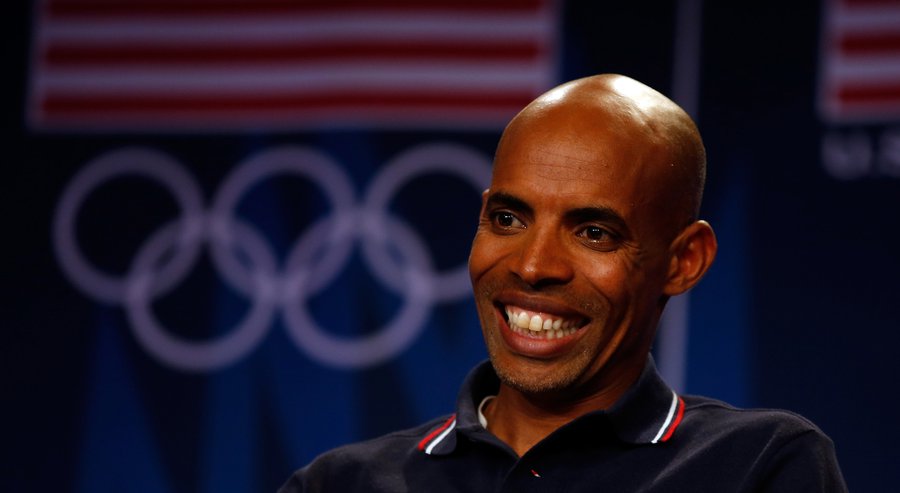 Brand, S (2016 March 19) Mebrahtom Keflezighi Invitational Debuts
The San Diego Union-Tribune (Online)
Mebrahtom Keflezighi Invitational Debuts
For Meb Keflezighi, it was a day of smiles and nostalgia.
Returning to San Diego High for the inaugural Mebrahtom Keflezighi Invitational on Saturday, the former Cavers star who recently qualified for his fourth Olympic Games marathon, spent an hour signing autographs as track events swirled around him.
Then he took a few minutes to reminisce.
"I remember running all four years in the Balboa Relays (a longtime event that was last contested in 2000)," Keflezighi said. "It was always one of my favorites."
Also etched in his memory was the 1993 San Diego Section finals at Balboa Stadium where he, St. Augustine's Mark Hauser, San Pasqual's Rosario Romero and Mission Bay's David Levy came off the final turn together.
"Mark won, I was second, Rosario was third and David, who led most of the race, was fourth," Keflezighi recalled. "The top three went to state, so David, even with the fifth-fastest time in the nation, didn't get to go.
"I have a lot of good memories on this track. I've been away from track since 2009 so this is fun."
Keflezighi, who as a senior swept the state 1,600 and 3,200, called having the meet named after him "a great honor."
On the track, Helix's Mason Vineyard and Mission Hills' Asia Smith scored impressive double victories.
Vineyard, a key member of the Helix section-champion football team at linebacker, captured the 110-meter high hurdles in 15.04 seconds and the 100-meter dash in 10.94 — just off his season bests of 14.94 and 10.87.
Asked which sport the Washington State signee preferred, he quickly responded, "football, definitely football. At first I ran track to help my speed for football, but now I like it."
Vineyard said he came into the season expecting the Scotties' 4×100 relay team to be among the best in the state. They clocked 42.02 last year and all four members — Vineyard, Nate Stinson, Mekhi Stevenson and Michael Austin — returned.
"Nate injured his hamstring and pretty soon everyone else stopped coming to practice. The three new runners are really working hard."
Smith improved her section seasonal best in the long jump to 18-6½ and captured the 100-meter hurdles in a personal-best 15.28 seconds.
The San Diego High girls got the meet off to a fast started when the 4×100 foursome of Alana Sinclair, Adiva Joseph, Aryanna Dean and Jaiden Phillips became the first section team under 50 seconds this year at 49.68.
Brand is a freelance writer.