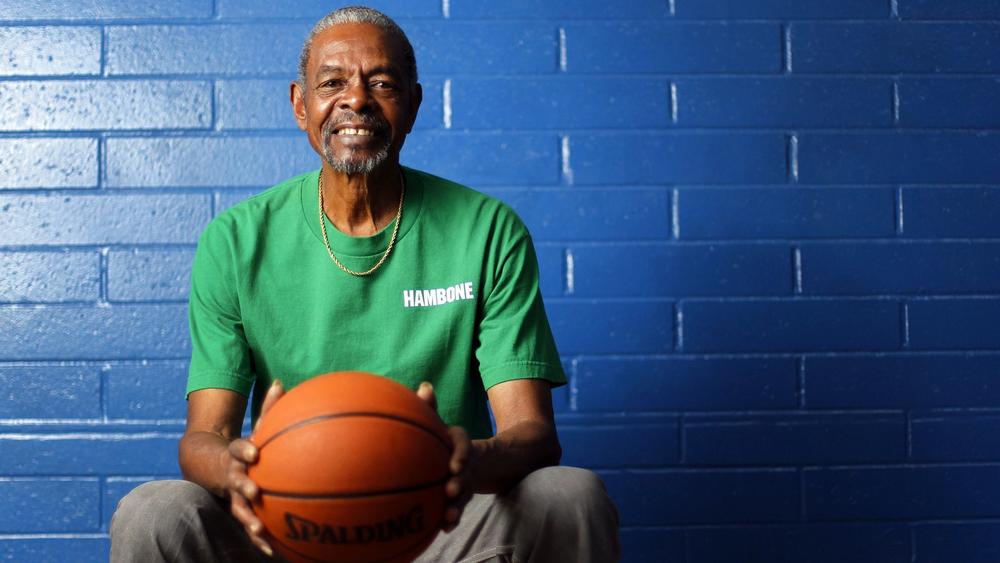 Hambone Williams
Former San Diego High star
(and Celtics champion)
"Hambone" Williams has passed away
Article by:
K.C. Alfred / Union-Tribune
Art "Hambone" Williams was the 1959 Southern California Player of the Year while playing basketball at San Diego High and later played in the NBA. He is shown here at the Martin Luther King Recreation Center on Feb. 10, 2012.
Art "Hambone" Williams was the 1959 Southern California Player of the Year while playing basketball at San Diego High and later played in the NBA. He is shown here at the Martin Luther King Recreation Center on Feb. 10, 2012. (K.C. Alfred / Union-Tribune)
Arthur "Hambone" Williams, who took up organized basketball as a San Diego High School junior, earned the 1959 Southern California prep player of the year award and won an NBA title with the Boston Celtics, died Thursday morning in San Diego of a stroke. He was 78.
"He was one of the better basketball players to be developed in San Diego," said Jerry Magee, a longtime Union-Tribune sportswriter who chronicled Williams' prep career.
Williams came by his nickname soon after his family moved from Bonham, Texas, to San Diego in the 1950s.
"My first day of junior high (Memorial), somebody hollered 'Hambone!' and I turned around," Williams told the U-T in 2010. "I've been Hambone ever since."
He joined the San Diego High team at the suggestion of a gym coach. A guard who was adept at setting up his teammates to score, he succeeded in high school as he had in pickup games.
"He was a great passer," Magee said. "He could handle the ball really well. He was very imaginative with his passing."
It wouldn't be the first time Williams made a relatively late start on a basketball court, only to thrive.
He was 28 in 1967 when he tried out for the local NBA team, the San Diego Rockets, a first-year expansion club, after working various jobs in the defense industry following careers with San Diego City College and Cal Poly Pomona.
Williams had not played organized basketball for five years but earned a contract with the Rockets. In his fourth NBA game, the 6-foot-1 guard spun a "triple double" with 17 points, 15 rebounds and 13 assists.
He logged 1,739 minutes as a rookie. In his third and final season with the Rockets, he led the NBA in assist percentage.
"He was famous for passing the ball to Elvin Hayes — not a bad idea," McGee said.
A month before the 1970 season, Williams caught a big break when the Celtics traded for him. His teammates included perennial All-Stars John Havlicek, Dave Cowens and Jo Jo White. Williams averaged 3.1 assists and 4.9 points as a backup guard. In 1974 — his fourth year with Boston and final year in the NBA — he helped the Celtics win an NBA title.
"I was faster than Havlicek, and he was fast," Williams would tell the Miami Herald. "They gave me a role to play, and I played it. We were like a family."
Off the court
During his Celtics career, he befriended an 8-year-old boy who played stickball near where he lived. Williams, who said he always loved kids, arranged for the boy, Philip Levine, to attend a game at the Boston Garden. Also, he introduced him to his Celtics teammates.
"I turned Philip loose and said, 'Go ahead and say something to the guys,' '' Williams said. "His eyes got real big."
More than 40 years later, Wlliams was on the receiving end of the favor.
Levine, who'd become a real estate developer, flew the 73-year-old from San Diego to Miami for a Celtics game.
"What Art did for me 42 years ago was great because he wasn't looking for publicity," Levine told the Herald. "He was just doing something nice for a poor kid with a single mom."
Williams finished his pro career with the San Diego Conquistadors, appearing in seven games in the 1974-75 season.
Friends said Williams went through tough times after his career. In 2010, he provided an update on his post-career life.
"I bought a home after we won the title in Boston, and when I got back here my wife divorced me in two weeks," he said. "I've had some hard times since then, some tough personal problems I'd rather not get into. … When I turned 45, I started taking my retirement from the NBA. It's enough. I get Social Security. I haven't had to work. I did some odd (job) things. … I've kept my head up. A lot of people go off the deep end, but I had good raising in Texas."
Williams, who lived in National City and Paradise Hills, had health setbacks in the past several years but remained active until the past year, said friends and family. He was active with the Boys and Girls Club.
"He turned out to be a very good cook," said Dean Hancock, a friend.
Hancock said Williams and he enjoyed going to track meets at colleges and high schools throughout Southern California.
He remained a "diehard" Celtics fan, said Hancock. A former San Diego High teammate, Jack Henn, recalled Williams as a superior basketball player.
"He had the goods from the get-go," Henn said. "At San Diego City, he could shoot the lights out."
Even with hard times, as it turned out, his assists weren't limited to the basketball court. "He was always a good friend," Hancock said. "Being a good friend of mine — that's the assist he gave me."
Williams is survived by two daughters, Robi Hall and Erica Williams; and three sons, Erik Williams, Tyree Williams and Rapheal Sanchez.