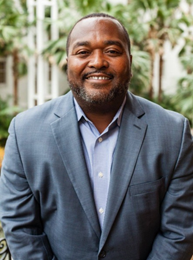 Mr. Carson has spent his career gaining experiences that have steered him towards becoming an effective leader and advocate for some of the most vulnerable children and families in San Diego.
Since 2000, Damon has been with the Neighborhood House Association in San Diego, California. He joined the organization as a Compliance Analyst and has spent the last 15 years increasing his areas of responsibility within the Organization. He serves as the General Manager for Education, Instruction, and Operations. He currently leads a team of 600 employees and manages a budget exceeding 80 million dollars annually.
He is known for being an innovative and thoughtful leader with a passion for advocating for the country's less fortunate individuals. He is best known for bringing a half billion dollars in federal funding for early childhood education through his leadership of the NHA Head Start program.
Mr. Carson is active on the advocacy fronts at the regional and national level; serving as Chair of the National Head Start Association, former Vice President of Region IX Head Start Association, and as a founding member and Treasurer of the National Head Start Alumni Network.
Mr. Carson holds a Juris Doctorate from the Thurgood Marshall School of Law at Texas Southern University and Bachelor of Arts degree in Public Administration from San Diego State University. He spends his down time fishing, coaching football, track and field and most importantly with his family traveling.