Yes, the SDHS Fountain has weathered over the years but is one of the symbolic artifacts of SDHS.
This photo shows ROTC students around the fountain during the first pandemic of 1918.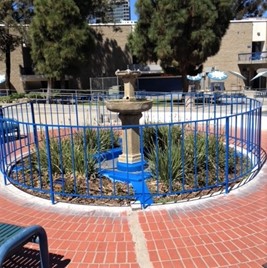 The fountain was in the middle of the courtyard within the 100 building of the Old Gray Castle.
During the rebuild in 1974, the fountain moved to the area known as the lower quad.
Very few artifacts can survive years of wear and tear without upkeep and restoration.
Our fountain needs some love and care, and we are moving towards restoring our fountain to what it should be. We are encouraged to know that our fountain is ninety-five percent intact. The upper middle section of the fountain is crumbling and falling apart.
A historian inspected the fountain's stability and soundness of the concrete. The smaller bowl, large bowl, and large stem are all in good condition.
A piece of the concrete was removed and sent back east to a laboratory for analysis.  The analysis will check the consistency, composition, and makeup of the concrete. Once results are received, the restoration company will design a 3D image to restore the missing section.
The school district installed a wooden brace to support the fountain during the removal and restoration process. When the fountain is restored, it will be moved to its new location at SDHS and maintained with dignity as this fountain symbolizes our school's strength.
Our fountain will no longer have water flowing through it due to its age. We will maintain this artifact and proactively keep its originality and prevent further erosion.  Micro holes and drain screens will be installed in each bowl for drainage of rainwater.
To help pay for our fountain restoration, the SDHS Alumni Association will work with the school district and architects on a brick paver campaign program. SDHS alumni and supporters will have the opportunity to purchase an engraved brick. As plans evolve, we will have more information on our website.
Eddie Head '73
"Go Cavers"