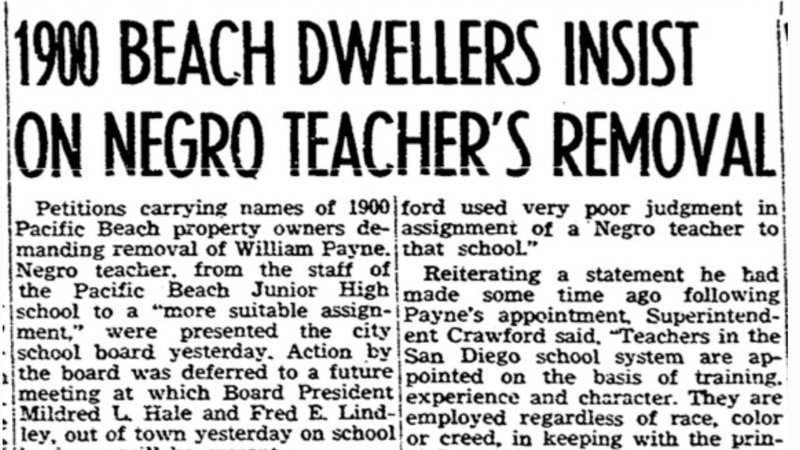 Regina Sinsky-Crosby (L) and Paige Hernandez (R)
Standing in front of the sign that they have petitioned to change the name to Fannie and William Payne Community Park, in Pacific Beach.
(Thom Vollenweider)
From San Diego Union Tribune - July 6, 2020
Pacific Beach residents push to rename park after Black educators
Residents in 1945 pushed back against William Payne's hiring at Pacific Beach Junior High because they argued there were few Black students at the school.
Pacific Beach residents Paige Hernandez and Regina Sinsky-Crosby created s petition last week on Change.org that had gathered more than 870 signatures as of Thursday.
It calls for the Pacific Beach Middle Joint Use Field, known to community members as the Pacific Beach Community Park, to be renamed the Fannie and William Payne Community Park.
The 82,000-square-foot park, which includes a baseball and soccer field, is located on Diamond Street. It is used by students at Pacific Beach Middle and by residents when school is not in session.
Update: From San Diego Union Tribune - Letters to the Editor July 9, 2020
Renaming park for teacher is appropriate
Re "Pacific Beach residents push to rename park after Black educators" (July 6): I read with interest about the article to name the park for William Payne.
I'm all for doing so. He was a very good teacher and helpful to his students. He was my English teacher at San Diego High (go, Cavers!) in the mid-1950s. I wasn't planning to go to college. I took all of the shop classes as well as physics.
Payne saw something in me that I didn't and talked me into applying for a college scholarship. The Fleet Foundation, the same outfit that funded the Fleet Science Center in Balboa Park, granted me a scholarship for $110 per semester to get me started at San Diego State. Doesn't sound like much now, but it was enough for the fees, as well as some books. Remember, in those days, $110 was the same as 110 ounces of silver.
That got me through the first year, and then I paid for the next three-plus years by working as a stock boy at the new Sears (largest in the world at the time). I ended up working at Scripps Institution of Oceanography for 50 years.
That never would have happened if not for Payne, so I will always be grateful to him for getting me to go on to college in spite of my insecurities about being able to do so.
Add my name to the petition for the naming of the park in his honor.
Arnold Mantyla
Carlsbad