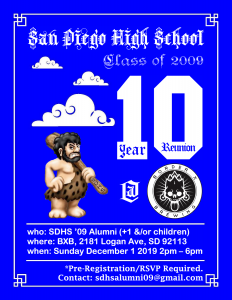 Class of 2009 Reunion
dAyGo cAvERs
Calling all Class of 2009 Graduates!
Our 10 year high school reunion is going down on Sun Dec 1 2PM - 6PM at Border X Brewing in Barrio Logan.
This is the first reunion for the Class of '09, so let's make it a good one! If you are willing to join the party please email SDHSAlumni2009@gmail.com
Sunday December 1, 2019
2:00PM – 6:00PM
Border X Brewing
2181 Logan Ave
San Diego, CA 92113
Beer Garden Back Patio
$30 Per Attendee
2 Beverages & 3 Tacos Per Person Included.
Children free (beverages and tacos not included).
dress code: MySpace profile pic outfit (optional).
p.s. don't forget your flip phones.
dAyGO, yOu kNOw.
Michael Wofford"
Please post that exact title and description and attach the image file seen using the following link:
https://imgur.com/gallery/IdpcxvI
Also, we would love for the Alumni Association to attend and and have a SDHS souvenir display booth and/or merchandise table to sell Cavers Merch.
Furthermore, this is an all ages venue and we also think it would be a cool idea for current high school students/ASB Council to volunteer and decorate the place.
Any help would be greatly appreciated and said volunteers will be added to the to guest list no charge.
Thank you so much! That's all I have for now. We hope to hear back from you shortly.
We will respond as quick as we can with follow up instructions on how to proceed with reservation conformation.