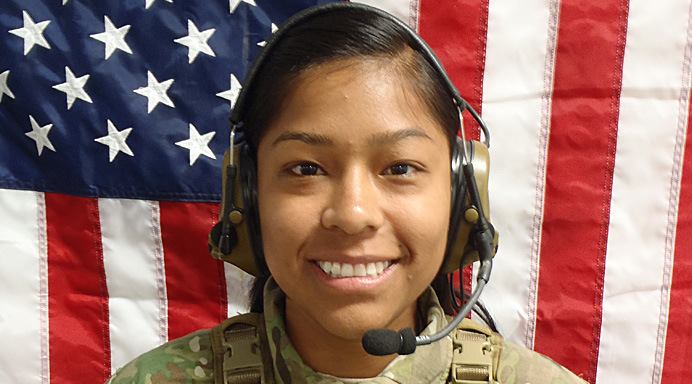 Jennifer Moreno, Captain US Army
Class of 2006
Jennifer gave her life for our country, the ULTIMATE SACRAFICE. Moreno grew up in Logan Heights, San Diego and served with Army Rangers in Afghanistan.
President Joe Biden signed legislation renaming the Veterans Affairs medical center in San Diego in honor of Capt. Jennifer Moreno, an Army nurse killed in 2013 during a Special Operations raid in Afghanistan.
The bill, written by Rep. Mike Levin, D-San Juan Capistrano, changes the name of the medical center to "Jennifer Moreno Department of Veterans Affairs Medical Center."
Jerry S. Davee
Class of 1954
Jerry S. Davee attended SDHS 1952-54. He was All-City "B" Basketball in 1953 and All-City Varsity and All- Kiwanis Tournament in 1954; He also won the All-City Net Golf Championship in 1954. He then went to SDSU where he led the Freshmen Basketball Team in scoring while also being a Varsity Aztec Golfer all four years and Captain in 1958. He graduated in 1958 with Honors and Distinction in Business Management. He then attended UCLA Law School 1958-1961 and was elected to the Board of Editors of its Law Review Magazine. He was then hired at the law firm at Luce, Forward, Hamilton & Scripps in San Diego where he practiced for 38 years also serving voluntarily as a Superior Court Judge Pro TEM and volunteer Federal Defender. He served as a Lecturer and Trial practice instructor to other attorney. He was elected and admitted to the American College of Trial Lawyers in London, England in 1986. In 1993 he won the Daniel Broderick Award from the San Diego County Bar Assn. for integrity and professionalism as a lawyer and was  named to the "Best Lawyers in America" in 1995-1998.
In the San Diego community Jerry has served as President of the SDSU Alumni Association, on the Advisory Council to the SDSU President and is an Honorary Alumni Association Life member. He was selected by the SDSU College of Business for a Monty Award as a Distinguished Graduate of SDSU in 1997. He has served as the President and Chairman of the Board of the San Diego Hall of Champions Sports Museum (1997-2003), the President of the Scripps Mercy Hospital Foundation Board (2005) the President of San Diego Country Club where he has also been two time Senior Club Golf Champion. He has been the Chairman of the Board of the Burn Institute of San Diego for over 30 years and he and his wife have established the Jerry and Carolyn Davee Endowment Fund for burn injured children and adult burn survivors. He was selected for the Burn Institute's "Spirit of Courage" Award in 1979 for his efforts to save the life of a fellow passenger following an airplane crash during which he was severely burned and spent 3 months in treatment at USCD Burn Center. He was honored by the San Diego Chargers in 2001 as their Community Quarterback for his Burn Institute work. He was also chosen to serve the Navy League of San Diego as a Chairman for three new U. S. Navy Ship Commissioning's held in San Diego. The guided missile destroyer USS Halsey in 2005, the Landing Helicopter dock USS Makin Island in 2009 and the amphibious transport the USS San Diego in 2012. He is a lifetime member of the Holiday Bowl Committee in San Diego.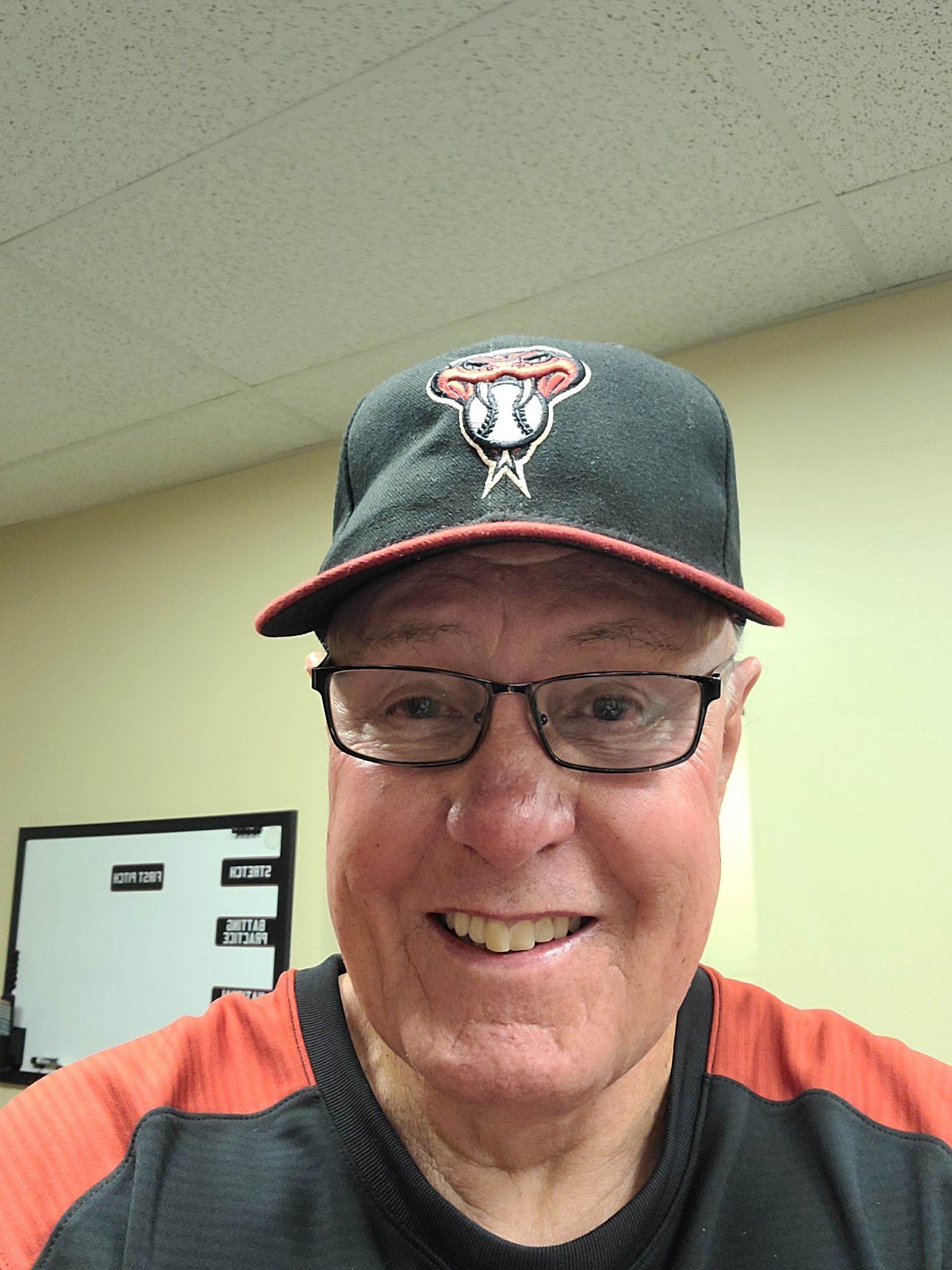 Brent Strom
Class of 1966
Brent was a notable leader from a young age in the world of baseball. Brent was signed by the Major League team, The New York Mets in 1970. He had a long-standing career with the Mets, Guardians (now) the San Diego Padres.
Because of Brent's long life journey out of San Diego as a nationally known ball player, he was not involved with the SDHS Alumni Association, but he has attended reunions and stayed in close contact with his friends.
Brett moved from playing ball to the arena of professional major league coaching, working with the Astros, the Kansas City Royals, and currently with the Arizona Diamondbacks.
Along with Brent's huge accomplishments with Major League Baseball as a player and a coach, he has been a dedicated supporter of the city of Puerto Penasco in Cleveland Mexico where he assisted the Down Syndrome School and rescue for woman, Barb's rescue.
Brent and his wife Carrie love to travel to Europe, but also love their second home in Puerto Penasco, Mexico. Brent is a major dog lover having three dogs, Macie, an English BullDog, Uno and Vigil, French Bulldogs.
Johnny Lopez
Class of 1960
Mr. Lopez was Head SDHS Cheerleader, member of the wrestling team and an actor in the school play OUR TOWN.
He was San Diego City College 1967-69 founder and President of American Mexican Youth Association/MECHA; participated in founding of CHICANO Studies.
In 1969, just prior to attending UCSD, as an undergraduate, Mr. Lopez started his work in healthcare as a dental technician. As his education Broadened and his experience fund new avenues,, he worked with renowned scientists in cancer research and neurology; Coordinated the relocation of clinical research professionals from Wisconsin to USC's Cancer Center and Research Institute; administered thirteen programs that Placed medical, dental, and nursing students in internships and residencies with community clinics; established health career clubs in local schools; and formed a consulting business to provide assistance to health care providers in the areas of development, contract negotiations, program evaluation and planning. He headed public relations and community relations for two county Board of Supervisors and other government agencies and community organizations
In 1972  he was UCSD Commissioner of Community Affairs and served on the  Student Government Board of Directors.
Johnny Lopez is an artist (a photographer and a guitar player). He once played guitar in a bank with Ramon "Chunky" Sanchez. His artwork has been shown at colleges and universities throughout  San Diego county,at Cesar Chavez Elementary School and in the U.S. Border Patrol venues. Johnny participated in community programs about the history of San Diego's Mexican heritage, including the art and artists of Barrio Logan and Chicano Park. Gardening is his hobby. He is the father of two. His life partner for 25 years is Stepahnie Castro.
Johnny also worked with Cesar Chavez family and volunteered  to establish Farm Workers' rights.
Marci Paraiso Heider
Class of 1962
Marci's dedication to San Diego High School began when she was still a student at SDHS! She was a member of Sergeanetts for two years: Pom Poms, Batons and served as their Historian. She was a member of the Hilltop Choir, performing at Hotel Del Coronado as well as several community groups including senior centers, churches and San Diego Center for the Blind.
Other Clubs and Organizations were Junior Class Cabinet, Girls League Council, American Field Service (AFS) and Twigbenders-Future Teachers of America.
After her graduation from San Diego High in 1962, she attended and graduated from San Diego State College. It was in 1982 that Marci became involved with Roosevelt Jr. High's Parent Teacher Association (PTSA) and served on their Board of Directors 1982-1985, working closely with the staff and students in the following ways:
* Planned and organized a 9th grade fundraiser field trip to Disneyland, supplied and distributed candy to help defray the  cost of the buses and tickets to Disneyland; she and Mr. Heider also escorted and chaperoned the students at this event.
*Assisted in implementing snow cone sales, after school, raising money for staff and teachers' needs in their classrooms.
Marci's involvement with PTSA continued at San Diego High where she served on the Board of Dire ctors from 1985-1994, working closely with the Administration, staff and students planning, organizing and overseeing the following campus activities: Gradnite, ASB Campus Dances, and ASB
Concessions at Balboa Stadium.
In the 1910'sMarci transitioned to participation with the Alumni Association:
- SDHS Alumni Association President 1990-1992
- Sergeanettes Luncheon Planning Committees-several years
- SDHS Alumni Choir which performed annually at the Holiday Concert at University Christian Church during the 1990's.
- SDHS  Class Reunion Planning Committee for 1961-62 and 2017.
- Super 60's Reunion Planning Committees 2018 and 2022.
In addition to all of the many ways Marci already had shown her dedication and commitment  to SDHS, she became the Treasurer of the Alumni Association and served in this capacity 2011-2020.
While on the Board of Directors as Treasurer, she served on, or chaired, the Website Reorganization Committee, the Financial Investment Committee and the Strategic Planning Committee.   Additional committee work extended to Campus Action Partners (CAP); Walk-Trash-Talk; Campus Beautification;
Annual Balboa Park Festival of Trees; Day at Petco Park- processed and managed ticket sales; and All Classes  Homecoming Planning Committee.
An event Marci was very thrilled to have arranged  was an in In-Service Visitation/ Presentation by Diana  Cammack McCann (Class of 1962 and WOH recipient) and her husband. They spoke in 2017
on the subject area of seeking international diplomatic jobs, reaching out to all SDHS  AVID classes!
Additionally,  Marci was involved in the Citizens Patrol-Hillcrest: Board of Directors
in the 1990' s which was a San Diego Police Department program.  Volunteers were the 'eyes and ears'
for SDPD and patrolled specific streets in their own vehicles and reported any suspicious activity while
on patrol. Her husband, Bob Heider, was the Director for Citizens Patrol and Marci assisted him in training sessions as well as went on patrols each week. This program received national attention, President Bill Clinton visited  their office to meet with Jerry Saunders, then Chief of Police. This program was very meaningful to Marci and her husband.
In addition to all of Marci's involvement and accomplishments in the above mentioned areas, Marci values her time with family and after retiring in 2008, she became the designated chauffeur and caretaker of her two grandsons: one in preschool, and one in elementary school. In her own words, she spent "thirteen years filled with unconditional love and support" while she ferried them to their games, helped with their homework and portrayed an excellent example of what a responsible adult looks like and what a responsible adult does!
She became involved in Little League, travel baseball, soccer, football and basketball. Her biggest contribution, according to Marci, was volunteering to be an official scorekeeper at Little League home  games during the regular season and Little League All Star games which were the most exciting, one year taking her family all the way to Palmdale for the state finals! Her 2nd biggest contribution, again according to Marci, was her Saturday commitment to the Snack Bar duty on Saturdays! Her youngest grandson finished high school this past Spring and although he drives himself now, Marci continued to attend his games: Granite Hills High School Eagles!
Traveling all over Southern California and other states gave Marci another opportunity to show  unconditional love and support as well as affording the boys  exposure to be seen by scouts from many colleges and universities.
It is our pleasure, to be able to give a special 'shout out' to Marci  from the Class of 1962 as she has shown us the same unconditonal love and support, similar to what she gives to her own family, beginning as a student at San Diego High School! She continues to  provide updates as to what is going on with our former classmates and provides opportunities for us to stay connected and/or get together.  We love and respect Marci Paraiso Heider and can think of no one more deserving to be given this Wall of Honor designation!