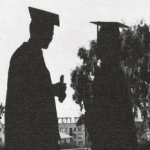 Are you a 2023 Graduating Senior? The Alumni Association congratulates you and wishes you the best in your transition to post postgraduate life!
Stay connected with your classmates and keep up to date on San Diego High School activities.
In January 2020, the Board of Directors voted and approved, going from free one-year membership for graduating seniors to a free five-year membership. The board of directors understands that you are just now starting a new phase in your lives, continuing your education, and getting a job. We want to keep you informed about the exciting things that is happening at SDHS after you have graduated.
So as an incentive to you, to stay in touch with SDHS. The board of directors has approved the extension of your membership in hope that after you finish you education and/or settled into your new job, you would join the SDHS Alumni Association.
Good luck in the next phase of your life and keep in touch. "Go Cavers"
Eddie Head '73
President-  SDHS Alumni Assoc.
Sign up using our convenient online enrollment form!!