SAN DIEGO HIGH SCHOOL FOUNDATION, INC
ESTABLISHED IN 1992
A group of 15 people, led by Daryl Ferguson, started to work together to establish this entity, independent of the Alumni Association, in order to enhance future funding opportunities under the 501 (c) 3 status.
Dick Jackson became the initial President and with the support of many others,
William Fiss, Edward Ott, Oliver Belzer (Treasurer), Herb Ybarra, Captain Paul Hartby (liason to  Hoover Hgh School) -to name just a few, were able to establish an amazing network of supporters.
In the 28 years of its existence, The SDHS Foundation, Inc. has been able to generate approximately $4.1 million in alumni and supporter contributions/donations for Scholarships, Clubs and Organizations!
Qualifying students in the past 4 years alone have benefited by the issuance of over $100,000 yearly in scholarships. Board of Trustee member, Karen deLauier, committee chairperson and with her committee's assistance, puts in countless hours coordinating the distribution, collection and review of applications to ALL SDHS seniors.
This current school year 52 new scholarships were issued as well as approximately two dozen renewable scholarships were processed for prior recipients that were successfully continuing with their college education.
There are many clubs and organizations and many, organized athletics taking place on campus. We are proud to provide between $35-45,000 in financial support to these groups.
Among the athletic groupings, many of them co-ed, are football, badminton, basketball, lacrosse, track and field, wrestling, and tennis. SDHS also sponsors music/choir, drama/theater, culinary, ASB, Special Education, Jr. ROTC and many of these groups have come to The Foundation for financial assistance.
The SDHS Foundation, Inc. thanks all past and present supporters for their continuing contributions.
Currently, the following persons serve on the Board of trustees: Officers are Ernestine Rae Riner (President), Stan Murphy (Vice President), Klaus Mendenhall (Treasurer), Barbara Nedd (Secretary) and Trustees Shirley Knox, Edward Ott, Larry Sand, Carolyn Sharp, Joni Walker, Karen deLaurier and Frank Stephens.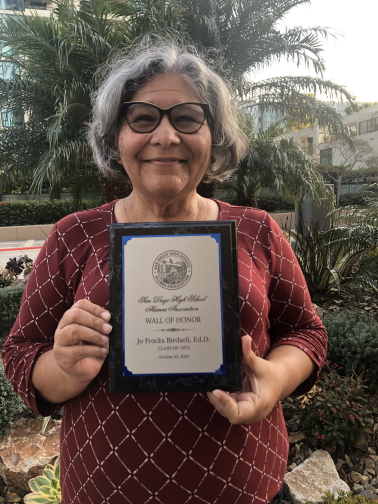 Ed.D Jo Frocks Birdsell, class of 1973
History of leadership and service throughout undergraduate years:
• Concert Band
• Marching Band
• Badminton Team
• Editor-in-Chief "The Russ"
Participation in activities that support the mission of the SDHS AA:
• Volunteer, Blind Students Union
• Volunteer, UPLIFT, Urban People Living in Faith and Trust
• American Blood Bank, 10 Gallon Club Leadership in community activities:
• She has been a Keynote Speaker, League of United Latin American Citizens
• President, Delta Kappa Gamma, Gamma Omicron Chapter
• Area Director, Delta Kappa Gamma Significant accomplishments in local, state, national or international professional organizations and/or
Public service:
• Director of Bilingual Education, Chula Vista Elementary School District
• Consultant, California State Leadership Academy
• Principal, National School District
• Dean of Education, Point Loma Nazarene University
• Consultant, California Commission on Teaching Credentialing
• Chair, Department of Educational Administration, National University
• Co-Chair, Department of Teacher Education, National University
• Interim Assistant Provost, National University
• Statewide Coordinator of Clinical Practice, National University
• Chair, Independent California Colleges and Universities Council on the Education of Teachers
Other notable qualifications:
• B.A., San Diego State University
• California Bilingual/Bicultural Teaching Credential
• M.A., Educational Administration, National University
• Ed Specialist degree , Point Loma Nazarene University
• California Administrative Credential
• Ed.D., Northern Arizona University
Interests:
• Reading, Music, Needlework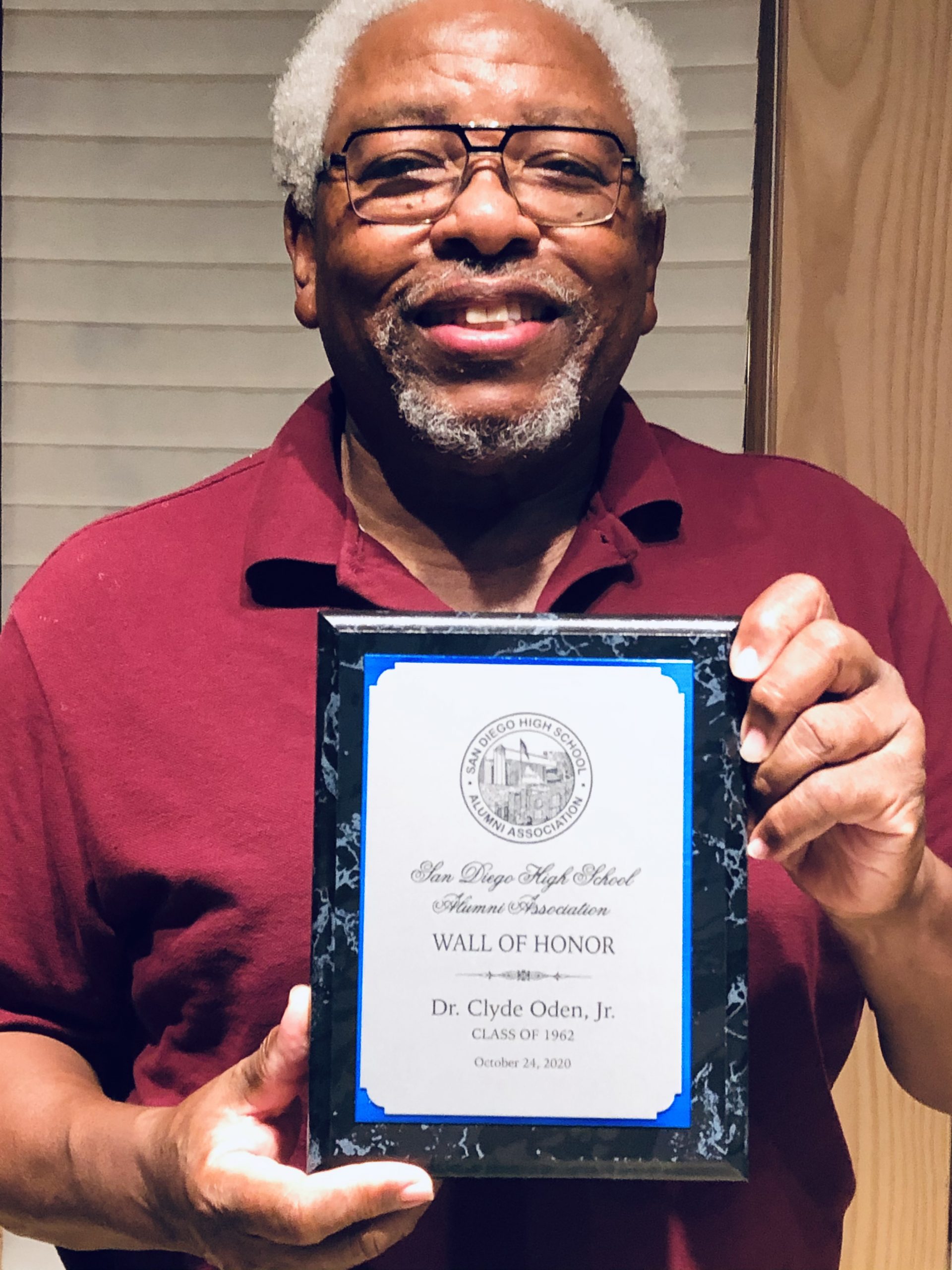 Dr. Clyde Oden class of 62
Dr Oden was co-captain of the Track team in his senior year.
He was one of the few athletes to earn a Variety letter in Cross Country all three years.
He was named by SDHS as "Man of the Year" in April 1962.attended San Diego State University before transferring to University of California, Berkeley.
He was elected president of the student body, School of optometry.
He was elected president of Kappa Alpha Psi Fraternity. earning master's degrees in public health, Optometry and Business Administration
He has supported efforts to create the SDHS homecoming program, with his advice and options.
He has been the strongest spiritual leader of the class of 1962.
Clyde has often kept us informed of our brothers and sisters when they have had serious health issues, encouraging all of us to support them.
He is the minister of choice for our Funerals He has always been community focused on concern for poor, underserved and disenfranchised in communities of color.
His work included serving with the RAND Corporation, as Co-Chairman Community Advisory Board on HIV/AIDS Project.
Married to US Congresswoman Barbara Lee Oden. They are both committed to serving the needs of their communities and Nation, seeking justice and equality for all of us.
He was John Doogan's pastor at the AME Bryant temple, he has his spiritual and inspirational religious leader, as he was for my fellow parishioners , a true God sent.